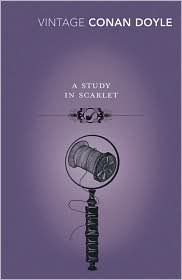 A Study In Scarlet
Sir Arthur Conan Doyle
Fiction; mystery
120 pages



Arthur Conan Doyle's Study in Scarlet is the first published story involving the legendary Sherlock Holmes, arguably the world's best-known detective, and the first narrative by Holmes's Boswell, the unassuming Dr. Watson, a military surgeon lately returned from the Afghan War. Watson needs a flat-mate and a diversion. Holmes needs a foil. And thus a great literary collaboration begins.
Watson and Holmes move to a now-famous address, 221B Baker Street, where Watson is introduced to Holmes's eccentricities as well as his uncanny ability to deduce information about his fellow beings. Somewhat shaken by Holmes's egotism, Watson is nonetheless dazzled by his seemingly magical ability to provide detailed information about a man glimpsed once under the streetlamp across the road.
Then murder. Facing a deserted house, a twisted corpse with no wounds, a mysterious phrase drawn in blood on the wall, and the buffoons of Scotland Yard--Lestrade and Gregson--Holmes measures, observes, picks up a pinch of this and a pinch of that, and generally baffles his faithful Watson. Later, Holmes explains: "In solving a problem of this sort, the grand thing is to be able to reason backward.... There are few people who, if you told them a result, would be able to evolve from their own inner consciousness what the steps were which led up to that result." Holmes is in that elite group.

This is the first Sherlock Holmes story that I've read and the first story in the series. I am glad that I started out with this book since it is an introduction to Dr. Watson and Sherlock Holmes. I liked reading about how they met and their first case together. The way that Holmes' mind works honestly fascinates me and I wish I was that observant haha. I loved the story and I really did like the background story of the murderer. It was a short read and I cannot wait to read the rest of the stories in my collection.

**Next Read: I just started reading Oryx and Crake by Margaret Atwood.