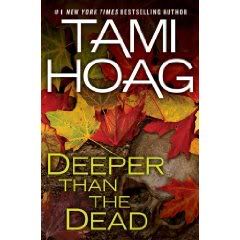 Amazon.com description: California, 1984. Three children, running in the woods behind their school, stumble upon a partially buried female body, eyes and mouth glued shut. Close behind the children is their teacher, Anne Navarre, shocked by this discovery and heartbroken as she witnesses the end of their innocence. What she doesn't yet realize is that this will mark the end of innocence for an entire community, as the ties that bind families and friends are tested by secrets uncovered in the wake of a serial killer's escalating activity.

Detective Tony Mendez, fresh from a law enforcement course at FBI headquarters, is charged with interpreting those now revealed secrets. He's using a new technique-profiling-to develop a theory of the case, a strategy that pushes him ever deeper into the lives of the three children, and closer to the young teacher whose interest in recent events becomes as intense as his own.

As new victims are found and the media scrutiny of the investigation bears down on them, both Mendez and Navarre are unsure if those who suffer most are the victims themselves-or the family and friends of the killer, blissfully unaware that someone very close to them is a brutal, calculating psychopath.

My review: I love Tami Hoag, and was thrilled to see a new book by her. I devoured it - read the whole thing in a little over one day. It's excellent - exciting, interesting, good characterization…but she left some loose ends that really don't sit well with me. I'm used to her wrapping everything up nicely, and she didn't do that here. I won't give spoilers, but there are two plot points that feel very significant while reading that just get forgotten about. That's off-putting enough for me to not give it full marks. 4/5 stars.



2 / 50 books. 4% done!