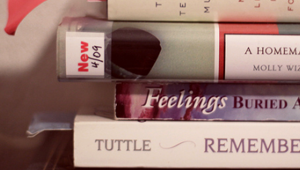 Title: From Dead to Worse
Author: Charlaine Harris
Copyright date: 2008
Publisher: Berkley Publishing Group
How many pages: 303 pgs
How long it took me to read: 5 days
Category: Fiction
I learned about this book from: Reading the other books in the series

This book was purchased at: Coles
This book is: okay, but not the best.
Other books by this/these author(s): Sookie Stackhouse series
Favorite characters: Sookie Stackhouse, Eric Northman,
When and Where the story takes place: Bon Temps, Louisiana, Shreveport, Renard Parish, Hot Shot

Plot in a nutshell: After the natural disaster of Hurricane Katrina and the manmade explosion at the vampire summit, everyone—human and otherwise—is stressed, including Louisiana cocktail waitress Sookie Stackhouse, who is trying to cope with the fact that her boyfriend Quinn has gone missing. It's clear that things are changing—whether the weres and vamps of her corner of Louisiana like it or not. And Sookie—Friend to the Pack and blood-bonded to Eric Northman, leader of the local vampire community—is caught up in the changes. In the ensuing battles, Sookie faces danger, death, and once more, betrayal by someone she loves. And when the fur has finished flying and the cold blood finished flowing, her world will be forever altered.
Main characters: Sookie Stackhouse
What I liked best: Answers to Sookie's ancestors' past. Sookie's just as sick of the weres as I am. The new chip on Sookie's shoulder. Pam and Amelia together - it's just so normal. Sookie deciding what to do with Quinn. Sookie feels the same way about her friends being married and having babies.
What I liked least: Quinn just drives me nuts, he needs to go away...okay, he's missing, that's close. Tanya's back. More werewolf storyline. Alcide being a dick to Sookie. How Frannie was conceived. Frannie gets on my nerves, just like her brother. Sookie not protesting to pregnant Crystal for ordering a beer. Quinn's family coming to harrass Sookie for breaking up with him, it was pretty white trash of them.

Overall rating: This wasn't the best book out of the series. A lot of stuff happened but it was all jumbled up into one book...it was like everything happened really quick and they took care of everything right away...not much to figure out.