1.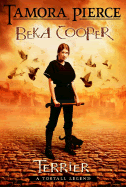 Terrier, by Tamora Pierce
Finished, April 17

The first book in Tamora Pierce's new series, it's lighter and a quicker read than many of her earlier ones. She also uses a journal format, which I found a little too twee for my taste, but I enjoyed the mystery, and read the book in about 24 hours.
Stars: 4/5

2.

Confessions of an Economic Hit Man, by John Perkins
Finished, April 20

I may be jaded and over-educated, but I didn't feel this book told me anything I didn't already know – the US uses international loans to leverage developing countries, private companies are in on it, etc etc. Perhaps it's been long enough since publication for this book to be truly groundbreaking.
Stars: 3/5

3.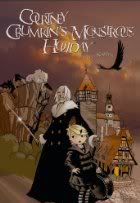 Courtney Crumrin's Monstrous Holiday, by Ted Naifeh

At last, another Courtney Crumrin book! This one has Courtney and her uncle Aloysius taking a vacation through Eastern Europe, encountering various beasties, and being as witty and fun as ever. I thoroughly enjoyed myself.

Stars: 5/5

Date started: April 15
Books: 3/50