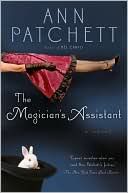 The Magician's Assistant
Ann Patchett
Fiction
357 pages


The Magician's Assistant sustains author Ann Patchett's proven penchant for crafting colorful characters and marrying the ordinary with the fantastic. When Parsifal, Sabine's husband of more than 20 years and the magician of the title, suddenly dies, she begins to discover how she's glimpsed him only through smoke and mirrors. He has managed to keep hidden the existence of a family in Nebraska--his mother, two sisters, and two nephews. Sabine approaches them hungrily, as if they are a bridge to her beloved husband and a key to the mysteries he left behind.

I honestly was less than impressed with this book. I never felt like I could connect with any of the characters. I also never felt like the plot was going anywhere. There were some interesting interactions with Parsifal's family, but overall, this read was disappointing and not memorable in the least.

***Next read: I just started Pretty Little Liars by Sara Shepard and am still reading Dead in the Family by Charlaine Harris.