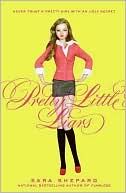 Pretty Little Liars (Pretty Little Liars Series #1)
Sara Shepard
YA fiction
288 pages



Everyone has something to hide—especially high school juniors Spencer, Aria, Emily, and Hanna.

Spencer covets her sister's boyfriend. Aria's fantasizing about her English teacher. Emily's crushing on the new girl at school. Hanna uses some ugly tricks to stay beautiful.
But they've all kept an even bigger secret since their friend Alison vanished.
How do I know? Because I know everything about the bad girls they were, the naughty girls they are, and all the dirty secrets they've kept. And guess what? I'm telling.

Wow! This was a fast and great read! Each girl had such interesting and juicy secrets. I really can't wait to see what is next for the girls. I am hoping that the next book will answer some of the questions that the first book didn't. If you are fans of great young adult girl reads, then I highly recommend this book. I cannot wait for the show to start up soon!

***Next read: I am still reading Dead in the Family by Charlaine Harris.