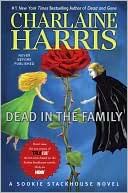 Dead in the Family (Southern Vampire Series #10)
Charlaine Harris
Fiction; fantasy; mystery, paranormal romance
311 pages



The #1 New York Times bestselling Sookie Stackhouse series- the basis for HBO(r)'s True Blood-continues! After enduring torture and the loss of loved ones during the brief but deadly Faery War, Sookie Stackhouse is hurt and she's angry. Just about the only bright spot in her life is the love she thinks she feels for vampire Eric Northman. But he's under scrutiny by the new Vampire King because of their relationship. And as the political implications of the Shifters coming out are beginning to be felt, Sookie's connection to the Shreveport pack draws her into the debate. Worst of all, though the door to Faery has been closed, there are still some Fae on the human side-and one of them is angry at Sookie. Very, very angry...

I liked this book ok, but it really wasn't as good as most of the others in the series. Behind the cut are the things I liked and disliked about the book. They are considered spoilery, so be warned...

I really did enjoy reading about Hadley's son Hunter. It was really interesting to see how he can read minds, just like Sookie. I hope that he is in future books, so that we can learn more about him.
I didn't care for the way Eric acted in this book. It is like his personality has totally changed, and not for the better. Bring the old, cool Eric back!
I also didn't care that much for the story between Eric and his maker. It actually was starting to become boring, in my opinion.
Lastly, even though I don't care for Bill, his backstory and Judith were certainly interesting. I hope that she sticks around!

Overall, it was a good read, just not a great one. I will still give it 4 stars, because I love this series so much!

***Next read: I just started reading Firefly Lane by Kristin Hannah.