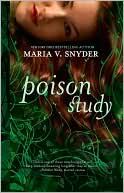 Poison Study
Maria V. Snyder
Fiction; fantasy
409 pages



About to be executed for murder, Yelena is offered an extraordinary reprieve. She'll eat the best meals, have rooma in the palace--and risk assassination by anyone trying to kill the Commander of Ixia.
And so Yelena chooses to become a food taster. But the chief of security, leaving nothing to chance, deliberately feeds her Butterfly's Dust--and only by appearing for her daily antidote will she delay an agonizing death from the poison.
As Yelena tries to escape her new dilemma, disasters keep mounting. Rebels plot to seize Ixia and Yelena develops magical powers she can't control. Her life is threatened again and choices must be made. But this time the outcomes aren't so clear...

This was a wonderfully unique story of survival of a young woman named Yelena. Throughout this book, there are many twists and turns that occur. If you want to read a great book with magic, adventures, love and betrayal, I HIGHLY recommend this book!

***Next read: I am about to start reading The Short Second Life of Bree Tanner by Stephenie Meyer. I've heard if you don't like the Twilight series, then to give this book a chance. We shall see haha!