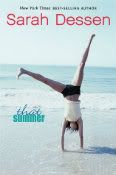 That Summer, Sarah Dessen
2/5 -nothing special
angst, coming of age, family

For fifteen-year-old Haven, life is changing too quickly. She's nearly six feet tall, her father is getting remarried, and her sister—the always perfect Ashley—is planning a wedding of her own. Haven wishes things could just go back to the way they were. Then an old boyfriend of Ashley's reenters the picture, and through him, Haven sees the past for what it really was, and comes to grips with the future.

<<<>>>



Not really what I was expecting. It felt different than other Sarah Dessen books, it didn't follow the same formula. Mainly there was no love interest. I didn't like how nothing was resolved with her father. And the whole Sumner thing felt a bit too predictable.