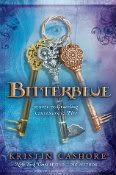 Bitterblue, Kristin Cashore
Seven Kingdoms #3
3/5 -like it
adventure, fantasy, mystery, young adult

Eight years after Graceling, Bitterblue is now queen of Monsea. But the influence of her father, a violent psychopath with mind-altering abilities, lives on. Her advisors, who have run things since Leck died, believe in a forward-thinking plan: Pardon all who committed terrible acts under Leck's reign, and forget anything bad ever happened. But when Bitterblue begins sneaking outside the castle—disguised and alone—to walk the streets of her own city, she starts realizing that the kingdom has been under the thirty-five-year spell of a madman, and the only way to move forward is to revisit the past.

Two thieves, who only steal what has already been stolen, change her life forever. They hold a key to the truth of Leck's reign. And one of them, with an extreme skill called a Grace that he hasn't yet identified, holds a key to her heart.



<<<>>>



When she snuck out of her castle to explore the city, all I thought about was Princess Jasmine!

This was a good book. The concept was nice, a queen at the ripe age of 17 or so, trying to find the truth of what happened when her psychotic mind controlling father's reign as king. Trying to find the truth when everyone seems to keep the knowledge from her She just wants to find the truth and help her kingdom. It's endearing and brave.

Discovering, with Bitterblue, what Leck did....it was heartbreaking.

It did feel a bit too long at times, but I found it interesting to find out who Bitterblue trusted and how she decided when people weren't worthy of that trust.

I didn't like the drawings and swirls throughout the book, it looked rather childish to me. The book itself, once you take off the dust jacket, is beautiful. I think I want to display it rather then just stick it on a shelf.