City of Lost Souls by Cassandra Clare
The Mortal Instruments #5
3/5 - I liked it.
adventure, alternate views, angst, family, fantasy, love story, mature, paranormal, urban fantasy, vamps, young adult, own



What price is too high to pay, even for love? When Jace and Clary meet again, Clary is horrified to discover that the demon Lilith's magic has bound her beloved Jace together with her evil brother Sebastian, and that Jace has become a servant of evil. The Clave is out to destroy Sebastian, but there is no way to harm one boy without destroying the other. As Alec, Magnus, Simon, and Isabelle wheedle and bargain with Seelies, demons, and the merciless Iron Sisters to try to save Jace, Clary plays a dangerous game of her own. The price of losing is not just her own life, but Jace's soul. She's willing to do anything for Jace, but can she still trust him? Or is he truly lost?



--------
This definitely wasn't as good as the other books!



Spoilers


I can't decide if it was the lack of togetherness or simply the lack of Jace that brought this book down.

I never really liked Alec, and I like him even less now. Though I like Izzy even more.

I thought Jordan and Maia were completely unnecessary characters.

I was a little disappointed because I thought this was the last book. I think that everything should end on a high note, and that it shouldn't just go on and on until no one wants to read the story anymore.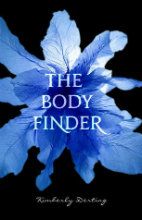 The Body Finder by Kimberly Derting
3/5 - I liked it.
angst, beach read, high school, love story, mystery, paranormal, teeny bopper, young adult, mature, own, re-read

Violet Ambrose is grappling with two major issues: Jay Heaton and her morbid secret ability. While the sixteen-year-old is confused by her new feelings for her best friend since childhood, she is more disturbed by her "power" to sense dead bodies—or at least those that have been murdered. Since she was a little girl, she has felt the echoes that the dead leave behind in the world... and the imprints that attach to their killers.

Violet has never considered her strange talent to be a gift; it mostly just led her to find the dead birds her cat had tired of playing with. But now that a serial killer has begun terrorizing her small town, and the echoes of the local girls he's claimed haunt her daily, she realizes she might be the only person who can stop him.

Despite his fierce protectiveness over her, Jay reluctantly agrees to help Violet on her quest to find the murderer—and Violet is unnerved to find herself hoping that Jay's intentions are much more than friendly. But even as she's falling intensely in love, Violet is getting closer and closer to discovering a killer... and becoming his prey herself.

--------
This book is way more romance and wayy less murder mystery that it says to be.

The little in-between bits from the bad guy's POV are really disturbing and creepy.

First read in Aug 2010





A Walk to Remember by Nicholas Sparks
4/5 - just wonderful
coming of age, contemporary, high school, love story, male protagonist, romance, movie, own



Every April, when the wind blows from the sea and mingles with the scent of lilacs, Landon Carter remembers his last year at Beaufort High. It was 1958, and Landon had already dated a girl or two. He even swore that he had once been in love. Certainly the last person in town he thought he'd fall for was Jamie Sullivan, the daughter of the town's Baptist minister. A quiet girl who always carried a Bible with her schoolbooks, Jamie seemed content living in a world apart from the other teens. She took care of her widowed father, rescued hurt animals, and helped out at the local orphanage. No boy had ever asked her out. Landon would never have dreamed of it. Then a twist of fate made Jamie his partner for the homecoming dance, and Landon Carter's life would never be the same. Being with Jamie would show him the depths of the human heart and lead him to a decision so stunning it would send him irrevocably on the road to manhood...



--------


The book is always better, right? I wanted to see if this was really true by reading a book of a movie that I love. I don't know if the book was better, it was different. The book is set in the 50s so I knew that the movie was modernized version of the story. I liked both. I know the movie so well so I was disappointed that some of my favorite moments were just movie magic, but my favorite line, "Promise you won't fall in love with me,' was in the book.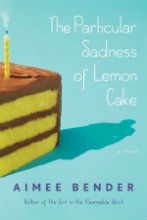 The Particular Sadness of Lemon Cake by Aimee Bender
2/5 - nothing special
adult fiction, angst, coming of age, family, mystery

On the eve of her ninth birthday, unassuming Rose Edelstein, a girl at the periphery of schoolyard games and her distracted parents' attention, bites into her mother's homemade lemon-chocolate cake and discovers she has a magical gift: she can taste her mother's emotions in the cake. She discovers this gift to her horror, for her mother—her cheerful, good-with-crafts, can-do mother—tastes of despair and desperation. Suddenly, and for the rest of her life, food becomes a peril and a threat to Rose.

The curse her gift has bestowed is the secret knowledge all families keep hidden—her mother's life outside the home, her father's detachment, her brother's clash with the world. Yet as Rose grows up she learns to harness her gift and becomes aware that there are secrets even her taste buds cannot discern.

--------
I thought this would be a cute, whimsical, fun read. It was much darker than I expected.

Why was there no punctuation? Is that like the new, cool thing. I don't get it, use quotation marks like we were all taught! I was confused, more than once, if something was being said aloud or if it was simply narration.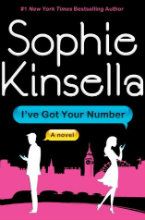 I've Got Your Number by Sophie Kinsella
3/5 - I liked it.
adult fiction, chick lit, love story

Poppy Wyatt has never felt luckier. She is about to marry her ideal man, Magnus Tavish, but in one afternoon her "happily ever after" begins to fall apart. Not only has she lost her engagement ring in a hotel fire drill but in the panic that follows, her phone is stolen. As she paces shakily around the lobby, she spots an abandoned phone in a trash can. Finders keepers! Now she can leave a number for the hotel to contact her when they find her. ring. Perfect!

Well, perfect except that the phone's owner, businessman Sam Roxton, doesn't agree. He wants his phone back and doesn't appreciate Poppy reading his messages and wading into his personal life.

What ensues is a hilarious and unpredictable turn of events as Poppy and Sam increasingly upend each other's lives through emails and text messages. As Poppy juggles wedding preparations, mysterious phone calls, and hiding her left hand from Magnus and his parents . . . she soon realizes that she is in for the biggest surprise of her life.

--------


I thought there was a bit much to this story. More heft to this romcom. It was cute.