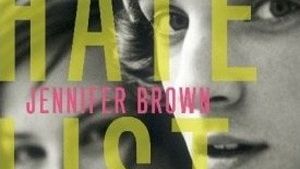 Hate List by Jennifer Brown
2/5 nothing special
coming of age, family, high school, mature, realistic fiction, social issues, young adult

Five months ago, Valerie Leftman's boyfriend, Nick, opened fire on their school cafeteria. Shot trying to stop him, Valerie inadvertently saved the life of a classmate, but was implicated in the shootings because of the list she helped create. A list of people and things she and Nick hated. The list he used to pick his targets.

Now, after a summer of seclusion, Val is forced to confront her guilt as she returns to school to complete her senior year. Haunted by the memory of the boyfriend she still loves and navigating rocky relationships with her family, former friends and the girl whose life she saved, Val must come to grips with the tragedy that took place and her role in it, in order to make amends and move on with her life.

--------


The narrative kind of jumped all over the place. It wasn't a great read for me. And I almost couldn't read the end, too hard to see threw the tears.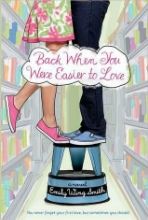 Back When You Were Easier to Love by Emily Wing Smith
2/5 nothing special
angst, high school, teeny bopper



What's worse than getting dumped? Not even knowing if you've been dumped. Joy got no goodbye, and certainly no explanation when Zan-the love of her life and the only good thing about stifling, backward Haven, Utah-unceremoniously and unexpectedly left for college a year early. Joy needs closure almost as much as she needs Zan, so she heads for California, and Zan, riding shotgun beside Zan's former-best-friend Noah.



--------


This was pretty boring for me, though I do love the title. This book made me think that I need to look through my TBR list and weed out the ones I wanted to read years ago because maybe my tastes have changed.




The Eternal Ones by Kristen Miller
4/5 just wonderful
adventure, angst, love story, mystery, young adult



Haven Moore can't control her visions of a past with a boy called Ethan, and a life in New York that ended in fiery tragedy. In our present, she designs beautiful dresses for her classmates with her best friend Beau. Dressmaking keeps her sane, since she lives with her widowed and heartbroken mother in her tyrannical grandmother's house in Snope City, a tiny town in Tennessee. Then, an impossible group of coincidences conspire to force her to flee to New York, to discover who she is and who she was. In New York, Haven meets Iain Morrow and is swept into an epic love affair that feels both deeply fated and terribly dangerous. Iain is suspected of murdering a rock star and Haven wonders, could he have murdered her in a past life? She visits the Ouroboros Society and discovers a murky world of reincarnation that stretches across millennia. Haven must discover the secrets hidden in her past lives, and loves¸ before all is lost and the cycle begins again.



--------
I surprisingly liked this. Surprising because I didn't really feel the love story. I thought there was enough mystery and suspense, but there wasn't a whole lot of action. Just the way I like it.

I thought some of the characters and plot lines were a little unnecessary.



Spoilers!


I thought the end was a bit too easy.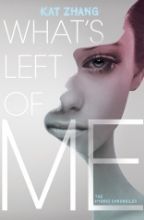 What's Left of Me by Kat Zhang
4/5 just wonderful
dystopia, young adult

I should not exist. But I do.

Eva and Addie started out the same way as everyone else—two souls woven together in one body, taking turns controlling their movements as they learned how to walk, how to sing, how to dance. But as they grew, so did the worried whispers. Why aren't they settling? Why isn't one of them fading? The doctors ran tests, the neighbors shied away, and their parents begged for more time. Finally Addie was pronounced healthy and Eva was declared gone. Except, she wasn't . . .

For the past three years, Eva has clung to the remnants of her life. Only Addie knows she's still there, trapped inside their body. Then one day, they discover there may be a way for Eva to move again. The risks are unimaginable-hybrids are considered a threat to society, so if they are caught, Addie and Eva will be locked away with the others. And yet . . .for a chance to smile, to twirl, to speak, Eva will do anything.

--------


I really liked this! It's an interesting story and such a unique POV.