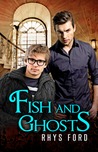 Fish and Ghosts by Rhys Ford

My rating: 4 of 5 stars


I love stories with ghosts and ghost hunters and this one was a whole lot of fun. I immediately liked Wolf who seems mostly to be a debunker at first but there are many layers to his affiliation with the afterlife. He's been hired by the wealthy family of Tristan Pryce, owner of the familial estate Hoxne Grange. They basically want Wolf to debunk Tristan's claim that the Grange is haunted (and hidden in that is the obvious desire to get Tristan declared non compos mentis and basically steal his entire inheritance from him.)

Wolf takes the job with his two partners in his Hellsinger business (a het couple) and what he gets isn't what he was expecting. Tristan is a very handsome young man who is exceedingly isolated not just because his family didn't understand him, except for the elderly relative who like Tristan could see ghosts. Hoxne Grange isn't just haunted. Tristan believes it to be basically a way station for ghosts who stay three days then move on to the next realm, whatever that may be. He's not exactly thrilled that Wolf and company are there but has to put up with them if he wants to keep the family home.

Tristan and Wolf's prickly relationship follows the enemies to lovers trope for those who enjoy that one. It's complicated by the fact something happens to turn the Hoxne from a peaceful inn for the departed to something out of Amityville Horror and Wolf has to stop it before Hoxne is destroyed and Tristan right along with it.

The descriptions in this book are lush and wonderful. The sex scenes are hot (though maybe a few too many at odd times for me but that's a matter of taste. They were very well written regardless). I loved Wolf's mother, Megan the moment we met her and I loved Tristan when he gave an Elfquest shout out in regards to her (Huzzah, someone who remembers Elfquest!). With Megan we get to see how and why Wolf is so interested in the supernatural. She's so much fun (even if she makes some dubious decisions).

I very much enjoyed it and am looking forward to reading more.