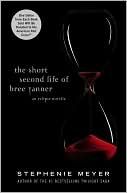 The Short Second Life of Bree Tanner: An Eclipse Novella
Stephenie Meyer
YA fiction; fantasy; chick lit
178 pages

Fans of
The Twilight Saga
will be enthralled by this riveting story of Bree Tanner, a character first introduced in Eclipse, and the darker side of the newborn vampire world she inhabits. In another irresistible combination of danger, mystery, and romance, Stephenie Meyer tells the devastating story of Bree and the newborn army as they prepare to close in on Bella Swan and the Cullens, following their encounter to its unforgettable conclusion.
Surprisingly, I did enjoy reading this book a lot more than the
Twilight
series. I think that even if you didn't enjoy that series, readers may like this one. I think that Meyer should stick to writing novellas.
***Next read: I am not sure what to read next!