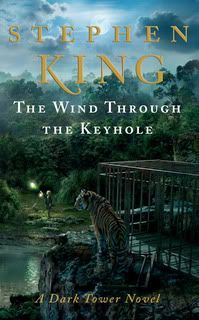 The Wind Through the Keyhole
stands as Dark Tower book 4.5, according to Stephen King in the introduction to his recent novel. To what he calls the "Constant Reader" this is a direction on where to shelf the book, but it's also a call to mind of the book
Wizard and Glass
(this new book's predecessor in the series). That particular novel focused on backstory, a story within a story, if you will.
The Wind Through The Keyhole
is similar in that it begins with the ka-tet (group bound by fate, essentially), moves into Roland (their dinh, if you ken it, which is Tower parlance for "their leader") speaking of his past, and then telling the story for which the novel is named.
For anyone coming into the novel hoping for 300 more pages of Dark Tower prose, this novel could be something as a disappointment. At first it reads similarly to J. K. Rowling's
The Tales of Beedle the Bard
in that King is weaving a story for us that is from an old book of stories about Arthur Eld (King Arthur, if it pleases you). It fits into the mythos of the world, and that makes it interesting, even if it doesn't seem to include any information that helps take the travelers any closer to the Tower.
The story itself is one of a boy overcoming fear and tragedy, braving a wilderness unknown to him, fighting a dragon, discovering forgotten magic, fairly basic stuff, to be honest. But it's peppered with King's brilliant imagery and his true knack for the macabre. Horror comes to this master easily enough, and he weaves it into the scenery without seeming to try very hard at all, which for me is the mark of a true great. Additionally, there are surprises within the story of Tim Stoutheart, that murmur of Gilead that was, and of Roland's future. Things that are so questionable that you have to ask yourself, "Did Roland change this story for the sake of his present companions, to make it more relevant to them?" Any time a character changes something so prevalent in his own world to suit the needs of, not the audience holding the book, but the audience to whom he speaks within the novel's pages, it makes me believe in the character, in his own reality.
All in all,
The Wind Through the Keyhole
did not disappoint, though I'm not certain I agree with King's assurance that it can be read by newcomers and Constant Readers, alike. The story is simple enough, and would be understood well enough, by someone unfamiliar with the series are large, but there are many things that would simply go unnoticed. The repetition of the number 19, phrases such as "ka-mai," references to Gilead and wars long since passed. Yes, you could pick it up and read it without ever thinking before or after of the Tower, but I implore you, if you're to start this series, start where it really begins. Pick up a copy of
The Gunslinger
, and begin the journey as so many of us did:
The man in black fled across the desert, and the gunslinger followed.