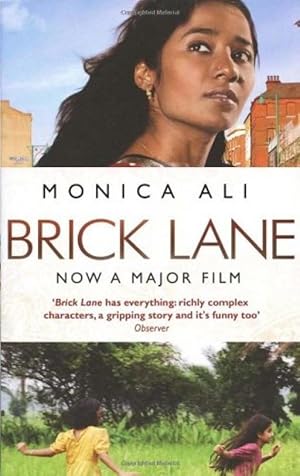 Number of pages: 511
This book opens with its central character, Nazneen, moving from East Pakistan to London in an arranged marriage to a man called Chanu. The book becomes a novel about culture shock and racial tension as she adapts to life in England; I got the sense quite early on that Nazneen didn't really get along with Chanu, so it wasn't too surprising when she ended up having an affair with a man named Karim.
I'd read this many years ago, but hadn't really got on with it that well the first time, so thought I'd give it another shot. Most of the narrative takes place in 2001, so I wasn't surprised when the 9/11 bombings got mentioned (this is especially significant because Nazneen and Chanu are Muslim).
The narrative is also broken up in places by letters received by Nanzeen from her sister living back home, all of which are written in a way that suggests that the writer has only a very loose grip on the English language.
The book does feel quite hard at first; the plot seems to move quite slowly, and the narrative involves a lot of talking; it was one of those books where I feel that I have to pay attention to every single bit of dialogue in case I miss something. The narrative style made me think of Jane Austen, only with a lot of politics and the occasional swear word, but the setting in multicultural London also put me in mind of Zadie Smith.
Overall, this is a good story which is, as writer Monica Ali notes, all about a woman gaining her independance, something that is effectively summed up in the last few paragraphs of the novel. It didn't occur to me as I read it, but in the newspaper interview with Monica Ali that featured at the end of my copy, she did mention that Nanzeen hardly speaks for a large portion of the novel, so the reader ends up inside her head. I also liked the way that Chanu wasn't entirely demonised, and that he was also written in a way that appeared sympathetic, despite the fact that he also spouted some very bigoted views.
Overall, I was glad I gave this another go, as I enjoyed the social commentary that it provided.
Next book:
The Amazing Maurice and his Educated Rodents
(Terry Pratchett)