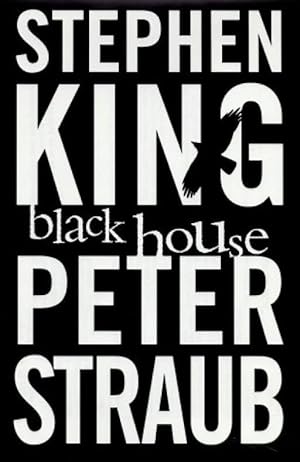 Number of pages: 625
This is the only Stephen King book I've read that is a collaboration with another author (although he also wrote
The Talisman
with Peter Straub). This is quite a long book, but once I got into it, it was quite enjoyable.
The first part introduces us to all the characters in the small town where the book is set, through the eyes of the crow Gorg, who ends up being significant to the plot. The narrative style was unusual, as it addresses the reader directly and allows us to imagine that we are flying through the town and snooping on all the residents.
The story only really gets going in part two. We are told that children are being kidnapped and eaten by a mysterious killer called "The Fisherman". Early in part two, the Fisherman kidnaps his latest victim, Tyler Marshall, who is distracted by the crow Gorg.
The hero of the plot, assigned to find Tyler Marshall before it is too late, is Jack Sawyer, who also cares for a blind man, Henry, and is reading "Bleak House" to him. Jack also seems to have the ability to see into a parallel world inhabited by bizarre creatures.
When the "black house" of the title gets introduced into the plot, the novel develops into a dark fantasy/horror story that involves demonic possession, and trips to the parallel universe where "twinners" live. While some of the content is quite bizarre, this book is very readable, and it all leads up to a gruesome finale - followed by a shock twist in the final chapters. The writers even tell you that can stop after the penultimate chapter if you want an upbeat ending.
I'd read the book before, and knew that something shocking had happened at the end, but I had forgotten what it was, so I decided to re-read it, and I think I may have got even more out of my second reading. Overall, it's a book that seems too long at first, but the writing style makes you keep wanting to read. I probably need to read more of Peter Straub's work, as I am much more familar with Stephen King's books (of which I have several).
Next book:
The Sound of Seas
(Gillian Anderson and Jeff Rovin)